A Letter To The Denver Broncos, From A Woman
Dear Denver Broncos,
Since you are taking Peyton Manning, can the south (i.e. us Titans fans in Nashville) have Tim Tebow? I mean, not for me. I am in a committed relationship with lots of other sports stars, but southern single ladies go ga -ga for that face. That bended knee. That boy band hair style. We know it's only a matter of time before Taylor Swift is done with him and leaves his little broken heart on the side of the Nashville road and writes a tell-all song about it. The rest of the southern women can and will be there to pick up the pieces and put them back together, one southern fried chicken wing at a time. Or one buttery homemade biscuit at a time. Or if they are feeling crazy, one Christian side hug at a time.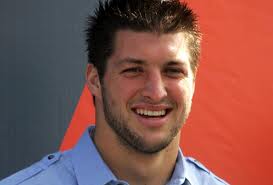 If you decide to release Tim Tebow to the Titans, I will tell you one thing. It will be an emergency situation in the beauty shop industry of Nashville. The hairspray will be sold out. There will be no seats in those fancy manicure pedicure places. Teasing combs will be able to raise their prices from $1.99 to $14.99. Supply and Demand. Ladies will be standing in line for spray tans and making sure that they have that time to study John 3:16. Let's be honest, if you don't already know it, you don't stand a chance. The grocery stores will most likely be out of bread and milk after this. Not because of Tebow, but because when Nashvillians get wind of an emergency, even if it's a Timergency, everyone is going straight for the milk. And the bread. What every red-blooded American needs to survive a storm.
Please make sure that you give me at least a twenty minute head start.  Not for me, though. For all of the other girls. And for Taylor Swift.
Thanks for taking Peyton Manning and his really large forehead off the market. Now, let that Tebow go.
Sincerely Always and Forever,
XOXOXO
(the way I sign all of my letters to football teams),
E
• • •
This post is a part of our bi-weekly The Ladies Room posts for Korked Bats.
Follow The Ladies Room on Twitter: @KBLadiesRoom – Or follow Erin, TLR writer: @erinmcgown
As always, be sure to follow Korked Bats and our up-to-the-minute sports jokes: @korkedbats