4 Ways This Titans-Texans Game Can Go
Hosting 600,000 people within the six square blocks of Lower Broad during the NFL Draft last spring was big for Nashville, especially within the realms of the NFL.
Winning on Sunday, however, will be even bigger.
The Titans square-off against the Texans for the first time this season on Sunday. The Titans have deemed the game their official CODE BLUE game of the season, meaning Nissan Stadium is going to be Smurfed the hell out.
I am a Titans fan. An unabashed Titans fan as of 7 weeks ago, but a ride-or-die since day one. Literally. I've ridden with this team since Danion Sidney was their cornerback, since Puma made their official uniforms, and since Molly Moo used to own the Kroger Shopping Cart Race.
I've ridden the highest of highs and the lowest of lows. I remember Billy Volek becoming only the third NFL quarterback to toss back-to-back games with four hundo passing yards. I also remember blowing 25 point leads to a Brian Hoyer-led Browns team. Like I said, I've been through it all. I remember Jevon Kearse destroying quarterbacks, records, and expectations. But I also remember Tyrone Calico. Womp womp.
Finally, the Titans have a chance to lead the AFC South in December since… when? Since Alge Crumpler was their tight end? Judge Mills Lane got people fired up on the scoreboard? The Predators played at the Sommet Center?
If you've watched as many Titans games as I have, you know this game can only go one of four ways, and I'm going to look into each one…
The Titans Blow-Out The Texans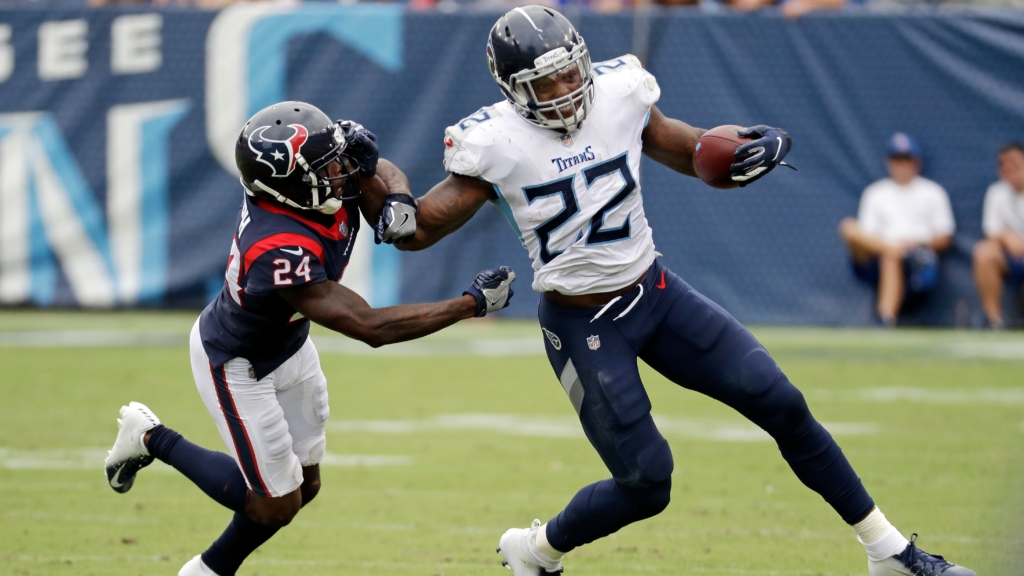 This is obviously the best case scenario, and not as unlikely as you'd think after watching the Texans in Week 14. If that team shows up to Nissan Stadium, there's no question the Titans win by a minimum of two scores. For this to happen, the Titans don't necessarily need to score early like you might think.
The term "second half team" gets thrown around way too often in football. It's usually a crutch for bad teams that don't start games strong. Although with that said, the Titans seem to be a second half team. That's in large part due to that human yeti they have in their backfield, Derrick Henry.
If you regularly read Korked Bats, then you should be aware of my love for Derrick Henry both here and here.
It's true, though. As games go on, Derrick Henry gets better. In the first half of games, Derrick has rushed 107 times for 437 yards, good for 4.1 yards/carry. In the second half of games, he's rushed 143 times for 806 yards, good for 5.6 yards/carry. Want to take it further? In the last two minutes of games, he ups his yards per carry to 6.2. It's like he feeds off his opponent's sweat… and tears.
This game could be tied at halftime, and the Titans could still win by 3 scores. I firmly believe it. So a fast start isn't necessary for this outcome to happen. However, it might be better if the Titans do come out with their heads on fire, that way Arthur Smith doesn't feel obligated to dig deep into his playbook. Remember, the Titans meet this same Texans team in Week 17 in Houston. Keep some bullets in your gun for that matchup.
[divider][/divider]
The Texans Blow-Out The Titans
Admittedly, this is the outcome I've expected each week for the last four weeks. A game with so much on the line, and the Titans just don't show up. You know, kind of like Week 17 last year. Gah, I still get Blaine Gabbert night terrors.
If you're a Titans fan, odds are you've developed a hopeful pessimism. You hope the Titans run the table the rest of the way, but you know, as long as they have that flaming tac on their helmets, they's susceptible to letting you down. Is it right? No, of course not. Is it a stigma? Yes. Eventually the Titans will be consistently good again, and will quickly rid us of ever feeling that feeling, but for now, it still exists. So it will always be in the back of your mind.
But, but… Ryan Tannehill!
Tannehill has somehow transformed the Titans into a really good team faster than Rick Moranis did with the Little Giants. But the Titans have had a lay an egg game since Tannehill took over. Remember their road trip to Charlotte? It was brutal… and a game started by Tannethrill. And it wasn't out of the ordinary at the time, as it was only Tannehill's second start. Hell, even the beginning of the Colts game in Week 13 felt like it was heading that way, but the Titans were fortunately able to rebound. Will that happen again? The hope of my hopeful pessimism says no. But the pessimism part says it could.
If it does, it will be one of those games where the Texans grab a couple of scores early before the Titans offense wakes up. Arthur Smith will throw it into panic mode and not run Derrick Henry. We'll see drops from Corey Davis, Texans corners will blanket A.J. Brown like a Snuggie, and Ryan Tannehill will turn back into a pumpkin.
(Side note: why do people say that? If he turned back into a pumpkin, that would insinuate he was the carriage. Has anyone even seen Cinderella? The saying should be "he will turn back into a poor girl with ratty clothes who talks to mice.")
The Texans who went into Arrowhead and beat the Chiefs, went into Gillette Stadium and beat the Patriots, and went into the Superdome and nearly knocked off the Saints will show up and lay a beating on the Titans. The Texans obviously play better on the road, so this isn't too far out of the equation. It's just a matter of which Texans team shows up.
I don't imagine this to be the outcome. Especially since the Titans no longer have an offensive coordinator who will hand the ball off to Luke Stocker on 4th and goal from the one.
[divider][/divider]
A Batman Villain Blows Up Nissan Stadium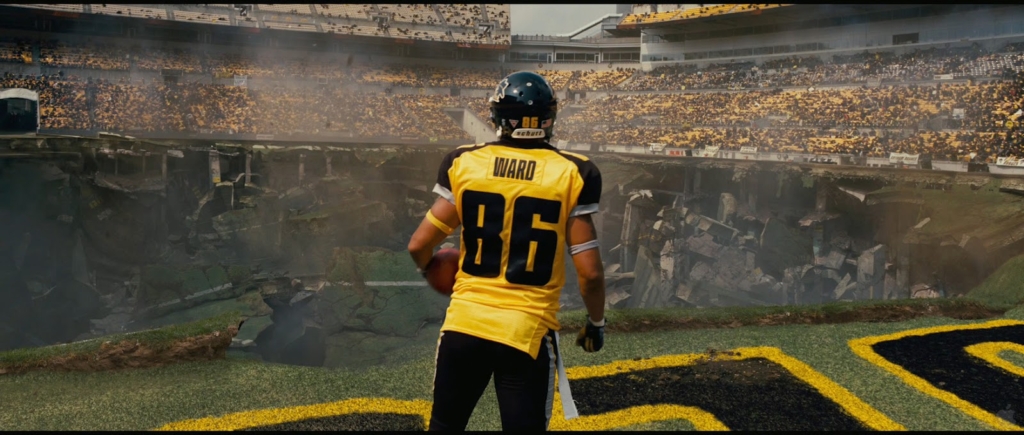 What a timely pop cultural reference.
This is the second most unfortunate outcome, behind the Titans getting blown out.
Look, it's unlikely, but I've seen it happen once before in a movie. Then again, I also saw a dog play wide receiver, a guy get his eye gaged out in the first round of the Pantheon Cup Playoffs, and the Browns actually have a successful draft. So who knows how realistic it could be. But we do know the Titans have had their troubles with explosions at home this year.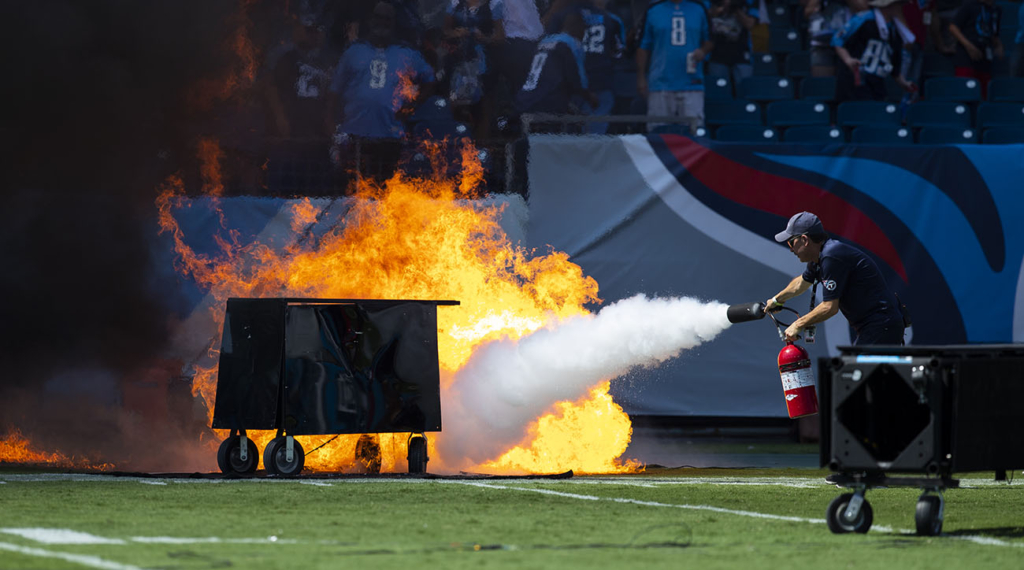 Granted, I don't know why Bane would go after Nissan Stadium when he could just as easily target the place that houses all of Nashville's pedal taverns. Hell, Bane might be voted mayor if he did that.
You merely adopted the dark. Drunk bachelorettes were raised in it, molded by it.
This option is more along the lines of something wild happens. We've seen it in Titans-Texans games of the past. Remember the great Courtland Finnegan and Andre Johnson having a fist-tasting contest in the middle of the field? Classic!
Andre Johnson was the O.G. Myles Garrett. Worst part about that fight? Rusty Smith started that game. Woof.
Again, I'm not hoping for a Celebrity Death Match or Bane to show off his talent of pyrotechnics in the stadium. All I'm saying is when these two teams meet, it's crazy. It's almost like they're pissed Nashville took their football team or something.
[divider][/divider]
This Game Goes Into Overtime
Gah, I hope this doesn't happen. I don't think my heart can endure it. Especially because if the game does go to overtime, I think the Texans hold the advantage. Especially in the kicking game. Ryan Succop has been anything but automatic since returning from the IR. On the other hand, Texans kicker Ka'imi Fairbairn has been 10 for 12 in field goals since Week 7, with longs of 54 and 52.
Although, if memory serves me correct, the Titans have fared well against the Texans in overtime in the past.
[divider][/divider]
A lot of these outcomes, however, don't depend on the Titans. They depend more so on the Texans. Which Texans team is going to show up? I mean that both figuratively and literally, in the sense of: what's their defense going to dress up as this week?
If Forest Gump was written in 2019, Tom Hank's iconic line would be, "Life is like the Houston Texans. You never know what you're going to get."
Regardless, I'm jacked. Tony Romo and Jim Nantz will be calling yet another Titans game in Nashville. This is a game Titans fans have wanted for a long, long time. Not just a game that matters, but a game that could decide the division.
In the words of Judge Mills Lane from the old Titans jumbotron videos, 'Titans fans, let's get it on.'