25 Lesser Known Prop Bets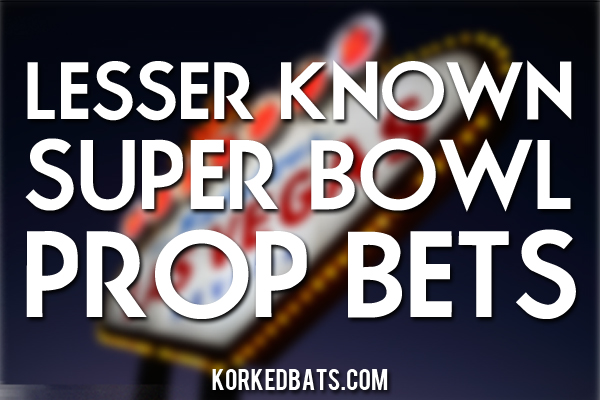 Gamblers are  always looking to blow some money on the outcome of the Super Bowl. Degenerate gamblers are always looking to blow all of their money on outcomes during the Super Bowl. تعلم اسرار الروليت The latter do so with random prop bets. Vegas lists odds for things that go on during the game to give the extreme gamblers even more to gamble on.
However, we discovered a list of prop bets that are lesser known to the general public. For your betting convenience, we've listed them below:
1. Length of the Super Bowl Pre-Game Show
OVER/UNDER: 16.5 hours
–
2. Will this year's GoDaddy Commercial be funny?
NO/NO
3. Number of touchdowns Marshawn Lynch will score in the game.
OVER/UNDER: 2
–
4. Number of words Marshawn Lynch will say in postgame interviews.
OVER/UNDER: 2
–
5. Number of footballs the Patriots will deflate this time.
OVER/UNDER: 12 out of 12
6. Number of players on the field at one time.
OVER/UNDER: 22
–
7. What will Katy Perry wear during her halftime performance? مواقع تربح منها المال
DAISY DUKES/BIKINIS ON TOP
8. Length of Snoop Dogg's appearance during Katy Perry's halftime performance.
OVER/UNDER: 4:20 minutes
–
9. Number of times the actual football game is mentioned amongst the day-long DeflateGate talk.
OVER/UNDER: 3
–
10. Number of people at your Super Bowl party who will say "Oh, that's cute," after the Budweiser puppy commercial.
OVER/UNDER: Everyone.
–
11. Time it will take Idina Menzel to sing the U.S. National Anthem.
OVER/UNDER: 2 minutes and 30 seconds
–
12. Number of people who will attempt to kill Idina Menzel if she sings "Let It Go" one more time.
OVER/UNDER: Every parent ever.
–
13. Number of packs of gum Pete Carroll will chew during the game.
OVER/UNDER: 9
–
14. Number of players Bill Belichick will chew out during the game.
OVER/UNDER: 53
–
15. If Katy Perry kisses a girl during her halftime show, will she like it?
YES/NO
–
16. Who will win the Puppy Bowl?
NEW ENGLAND PAWTRIOTS/SEATTLE FLEAHAWKS
–
17. Number of times your wife/girlfriend will say, "So wait, tell me again about that whole DeflateGate thing."
OVER/UNDER: 23
–
18. Number of times you won't answer because, "Babe, the game is on."
OVER/UNDER: 23
–
19. Number of people other than Tom Brady that Gisele will blame if the Patriots lose.
OVER/UNDER: 52
–
20. Number of teenagers who will ask "Why is Cinna there?" when Lenny Kravitz shows up during the halftime show.
OVER/UNDER: All of them
21. What will Rob Gronkowski have more of during the game?
RECEPTIONS/BEERS
22. Number of actual layers in Susan's famous Big Game Secret Recipe 7-Layer Dip.
OVER/UNDER: 5
(You're such a liar, Susan.)
23. What will Bob Costas' halftime oral essay be about?
POLITICS/RELIGION/ABORTION
24. How will Michael Bennett get to the game? المراهنة على المباريات
HUFFY/TREK
25. Number of times someone will stand in your view of the TV screen at your Super Bowl party.
OVER/UNDER: "FRIGGIN' MOVE ALREADY, GARY!"
• • •
This post was created by Austin. You can follow him and his jokes on Twitter: @TheAHuff
Also, for up-to-the-minute sports jokes, follow Korked Bats on Twitter: @KorkedBats