22 Reasons Why Johnny Manziel Would Roll Up His Dollar Bills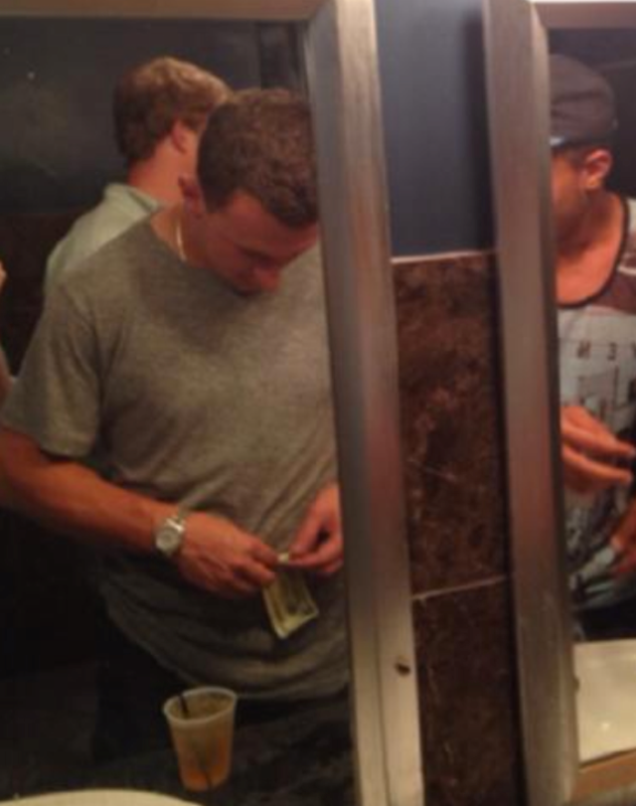 (pic via Busted Coverage) 
Over the 4th of July weekend, Cleveland Browns quarterback and ultimate party-planner Johnny Manziel was photographed in the bathroom of a Las Vegas nightclub rolling up a dollar bill. Now, many want to assume the worst (read: cocaine use), but we're here to deliver other reasons why Johnny Football might roll up a dollar bill.
His wallet is a small glass test tube.
The nightclub he was at was out of straws.
To make a tiny money telescope.
Per a Pro Football Talk commenter, he was making a money antenna for his money phone.
Mini hockey stick!
Mini baseball bat!
Mini pole vaulting pole!
To perform a simple magic trick. I mean, it is Vegas.
Trying to make George Washington's head a mushroom. (He's doing it wrong.)
That's not even money. It's a tiny scroll. Johnny is learning Hebrew.
He had some extra Fun Dip left and needed a stick.
Rolling up money is just the second part of his "money" touchdown celebration.
He was rolling a cigarette. But it was a fake cigarette as he's still holding to the D.A.R.E. pledge he made in elementary school.
He was rolling a cigarette. But it's cool, because he only smokes when he drinks.
He gave it to a really specific homeless man who held a sign that read, "Homeless and hungry. Any little bit will help. Also, before giving me money, please roll it up in to a really tight roll. Thx!"
He was rolling it up to make an old-timey hearing aid. It's often hard to hear in those Vegas nightclubs.
He's trying to find a hidden message on the $100 bill… National Treasure!
He's trying to find a hidden message on the $100 bill… Illuminati!
He's checking his pocket-sized Ten Commandments scroll to see if he's breaking any.
Someone said "Roll Tide," but he thought they said, "Roll (your money) Tight!"
The bathroom he was in was out of toilet paper.
To snort cocaine.
• • •
This post was created by Austin. You can follow him and his jokes on Twitter: @TheAHuff
Also, for up-to-the-minute sports jokes, follow Korked Bats on Twitter: @KorkedBats